English Bulldogs – Q&A
September 28, 2018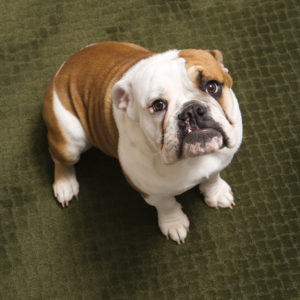 English bulldogs, commonly referred to as Bulldogs, come with a sweet disposition, predictability and dependability. These allow them to get along with their families, including children. They are also low-endurance dogs that tend to be averse to exercise, and only need it moderately. Here are the most commonly asked questions about the breed, and their answers:
Are English Bulldogs good pets?
Yes. Despite their gloomy appearance, bulldogs are among the most amiable pet breeds available. While puppies tend to be a little friskier, adults are quiet and will happily spend their day snoring on the couch.  Additionally, while some are friendly with strangers, others are reserved but polite.
Why are English bulldog puppies expensive?
Bulldogs have awkward body structures that make mating difficult. This often necessitates breeding via artificial insemination. Additionally, because their pups have large heads, they are usually delivered by cesarean section. They also have small litters, which also drives their price up.
What health problems do English bulldogs commonly suffer from?
Bulldogs suffer from a variety of health problems, including respiratory and cardiac disease, cherry eye, hip dysplasia among others. They also don't do well in extreme temperatures; they are susceptible to heat problems in summer and are easily chilled during cold winters. The folds of their skins should be cleaned daily as they easily become infected.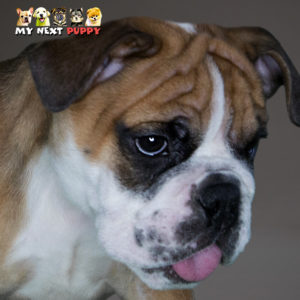 Do English bulldogs bark a lot?
No. However, if you're worried about noise, then you should certainly be aware of the fact that they are loud breathers. Due to the way their faces are structured (their noses especially), these dogs tend to snore, wheeze, snuffle and grunt loudly.
Are English bulldogs smart?
Yes. They are surprisingly sensitive and remember what they learn.
Are English bulldogs aggressive?
They can be, but not to everyone. English bulldogs have retained the courage they traditionally needed for their original bull-baiting role. As such, although they generally get along well with other family pets, they can display aggressive behavior toward unfamiliar dogs. They are also suitable watchdogs because of their courageous demeanor.
Are English bulldogs easy to train?
Not really. They tend to be stubborn, which presents a challenge during training. They are tenacious, so owners may find it difficult to refocus their attention once they set their minds on something. As such, patient and persistent training is required for success.
If you live in Chantilly and are wondering where to get a healthy puppy, My Next Puppy is here for you. With over 35 years of experience, our puppies are sourced from the best quality breeders. Each puppy goes home with a full health guarantee, pet insurance and a take-home package for training. Call us today on (703) 844-9796 or check out our Available Puppies page on our website.