How Much Do You Know About The Cute And Cuddly Peke-A-Chon?
January 4, 2019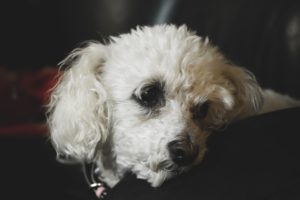 Long ago, dog lovers would purchase purebred pups and take care of them until they became adults. That trend has somewhat changed in the recent past, as the idea of getting hybrid dogs has become popular among many dog owners. That may be one reason why the Peke-A-Chon is not widely known – it is not a pure breed. However, it is one of the most adorable pups you'll find when you go to the breeders. This post will give you some useful information about the Peke-A-Chon.
What's a Peke-A-Chon?
Let's begin with a brief overview of the Peke-A-Chon. If you're wondering where this cute breed came from, then the following post should answer some of your questions:
The Peke-A-Chon is a designer breed created through the cross of the Pekingese and the Bichon breed. The Peke-A-Chon is recognized by the ACHC (American Canine Hybrid Club). This designer breed can also be registered through IDCR (International Designer Canine Registry) and ICA (International Canine Association, Inc).

Weight: 6 – 14 lbs

Height: 7 – 12 inches

Color: The Peke-A-Chon breed comes in a variety of colors…Red, black & tan, sable, fawn, white, parti, gold, etc. Read more at Keystone Puppies…
The Peke-A-Chon is, generally speaking, a small dog even when it grows to maturity. So you don't have to worry about size if you are especially fond of small dogs.
Great Family Dog
The Peke-A-Chon, also known as a Peek-A-Chon, is the perfect breed for most families. And because of his parent breeds, his temperament will mostly be friendly and sociable. Children will definitely be delighted to have one around the house, as the following post describes:
Peek-A-Chon… no, he's not some Bichon-like Pokemon, he's the cross of a purebred Bichon Frise and a Pekingese. He is a small, friendly dog who makes a great family pet. This is a sweet, loving dog who will make a great addition to any home. He likes to play but he doesn't require a lot of exercises. And who can resist his cute little black button nose? Read more at Animal Facts…
When looking for a family-friendly dog, the exercise requirements are an important consideration. If your family has a relatively busy schedule, then a dog with high exercise requirements may be difficult to maintain. You might end up with a bored and depressed pup as a result.
Easy Diet
Another major factor that potential dog owners or dog lovers should take note of is the dietary requirements of the breed. This will help in estimating the budget of said dog. The following post paints a clear picture of his diet:
The dietary requirements of the Peke-A-Chon

Much like other small dogs, the Peke-A-Chon won't require lots of food. It is recommended you feed it a cup of dry dog food a day, which will cost anywhere between $20-$30 a month.

It isn't fussy when it comes to brands. However, it is vital that you stick to dry dog food for the nutrients it provides.

Don't feed the Peke-A-Chon things like chicken or beef because its small body tends to struggle. Read more at Doggie Designer…
The Peke-A-Chon is basically a low-maintenance dog when it comes to food. When it comes to grooming, you'll be pleasantly surprised to find out that the breed doesn't shed much, and will only need regular grooming every 4-6 weeks.
All you need to do is get a good breeder who knows the Peke-A-Chon parent breeds adequately. At My Next Puppy, we will be more than glad to introduce you to your Peke-A-Chon pup or any other dog breed of interest to you. Call us on (703) 844 9796 or visit our Available Puppies page for more information.