New Puppies For Sale
May 1, 2021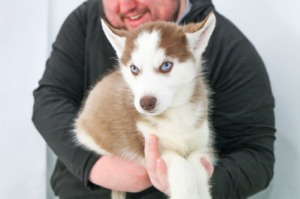 MNP is there to offer the best travel buddy, ride-or-die, workout partner, biggest fan, Netflix companion, official food taster, and professional hugger!
Ensuring Uptime for Our Clients
MNP continues to experience an influx in client demand and we greatly appreciate our community interest in our puppies. Please note we are back-logged in pet requests and apologize if there are any delays in scheduling your puppy appointment. 
We understand that our clients need access to our rehoming services especially with the mental, emotional, and sometimes even physical stress.  We will continue to serve our clients with the best puppies from the most reputable breeders!
Helping Our Community

To sere you better MNP is working within our community to provide you with not only the reputable puppies you expect but with the level of service we care to achieve. 
We have teamed up with our local high schoolers through STEP (Secondary Transition to Employment Program) and Chantilly High School to serve our community well during and after the pandemic.
MNP Values: 
Up-to-date Shots | Microchipping | Vaccinations | Lifetime Health Protection Program | Bacterial and Viral Warranties | Registered | Veterinary Certified | Training Resources | No Puppy Mill Promise | Champion Quality | Pedigrees | OFA Certification | DNA Testing | Licensed, Reputable, and Transparent Breeder Information | USDA Breeder Inspection Reports | Dedicated Support Team | Financing Plans Available
*Above items may vary by specific pet
Are you a first responder? Receive 10% off now as a thank you.

MNP is doing more each day to prioritize your health as of May 15th, 2020. Learn More